Cynthia Harvey, InformationWeek
670 Times
411 People
To thrive in today's multi-cloud environment, every enterprise IT team needs professionals with these 10 cloud computing skills.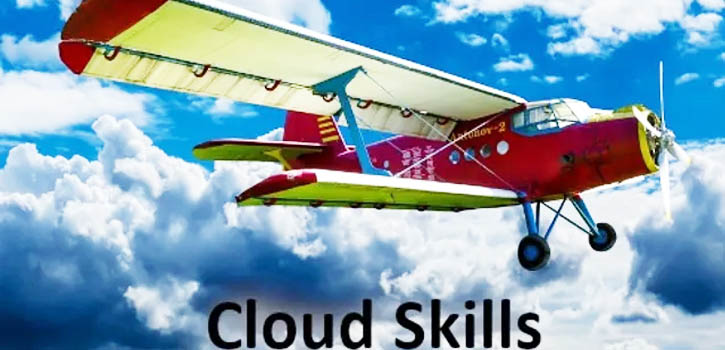 Pixabay
Now more than ever, cloud computing is the way work gets done. And increasingly, companies are embracing a multi-cloud strategy and moving more workloads to the public cloud.
In InformationWeek's most recent State of the Cloud report, nearly half of respondents (44%) said that they do the majority of their computing in the cloud, up from 31% who said the same the previous year, and 55% said that they were investing and relying more on public cloud services.
A separate survey from Forrester and Hashicorp tells a similar story. Respondents said that a year ago, only a third of their workloads ran in the public cloud. But they expect that number to climb to 61% within the next 24 months.
And companies don't expect this trend to change, even if the economy gets worse. In fact, rumors of an impending downturn seem more likely to accelerate public cloud plans. A survey from Flexera found that economic uncertainty increased cloud usage and spend for 45% of respondents, while only 10% reported a decrease.
In order to keep these cloud plans on track, organizations need employees with the right mix of cloud skills. In the Forrester survey, respondents ranked skills shortages as their No. 1 barrier to a successful multi-cloud strategy. And in the InformationWeek survey, the percentage of people surveyed who said staff skillset was one of their biggest concerns climbed from 26% the year before to 30% in the most recent survey.
So what are the skills that companies doing business in the cloud need?
The following slideshow highlights 10 skills that are essential for nearly every enterprise, no matter its industry. If you're a manager, you need to make sure that you have each of these abilities on your team. And if you're an IT professional, you might want to consider acquiring some of these skills if you want to stay hirable.


1. Cloud Security
As has been the case for the past several years, enterprises are very concerned about cloud security. Cyberattacks skyrocketed over the past three years during the abrupt transition to remote work. While organizations have had a fair degree of success in mitigating these threats, staying ahead of bad actors remains a major concern. In InformationWeek's report on The Future the Cloud, nearly half of those surveyed listed security as their top cloud concern. The Flexera survey found even higher numbers with 85% of respondents saying security was a top challenge. Similarly, in the HashiCorp survey, 89% of respondents said security was a key driver of cloud success.


2. Cloud Strategy
Across industries, enterprises are moving away from ad-hoc cloud implementations and adopting a more strategic approach. In the HashiCorp survey, 86% of respondents said that their organization has a centralized function or group responsible for formally managing cloud operations or strategy. These teams focus on standardizing cloud services, centralizing cloud security and compliance, and developing and distributing cloud practices best for the organization. And even in organizations without one of these centralized teams, IT managers are expected to have a good grasp on the fundamentals of cloud strategy.


3. DevOps
At many organizations, the adoption of cloud computing has gone hand in hand with the adoption of DevOps practices. DevOps emphasizes automation of IT processes and efficient communication among teams. When implemented well, the DevOps approach allows teams to get their work done faster, more efficiently, and with fewer errors. But doing DevOps well can be challenging because it requires cultural changes. Many organizations find that their teams need significant training on an ongoing basis in order to realize the benefits that DevOps offers, and that includes training in applying DevOps practices to cloud environments.


4. Automation
Automation also usually follows the adoption of DevOps. In fact, DevOps methodologies advocate using automation as much as possible. And even organizations that are not implementing DevOps are often using automation tools. In fact, in the HashiCorp survey, 99% of respondents thought that automation was important for multi-cloud operations. Given that 81% of respondents reported that their organization was using a multi-cloud strategy, automation is clearly an important aspect of cloud computing. Automation allows organizations to deploy software and resources more quickly and more frequently, and it eliminates some of the errors that can occur when IT teams complete processes manually.


5. Containers
Containers have become ubiquitous in the cloud. Container software packages software together with all its dependencies. The containerization approach is particularly helpful in hybrid and multi-cloud environments because it makes it much easier to move workloads from one environment to another. It makes it possible to shift between public and private clouds or between different public cloud vendors.
Today, when we are talking about containers, we are usually talking about Kubernetes. It has captured the majority of the market, becoming the de facto containerization platform.


6. Cloud Optimization
Operating in the cloud clearly offers many benefits, but many organizations have found it can also lead to exceedingly high costs when it is not done efficiently. InformationWeek's survey found that respondents were most likely to list cost (51%) when asked about their most important cloud concerns. These cost concerns have driven organizations to put more effort into figuring out how to optimize spending on cloud resources. This process involves monitoring cloud spending, discovering opportunities to save money by moving to less expensive instances or shutting down unused resources, and detailing the changes that will be most effective. Cloud optimization is a complicated and ongoing process that requires a unique skillset.


7. Communication
When it comes to hiring employees with cloud computing skills, the so called "soft" skills are often just as important as the more technical skills. Communication is one of the most important soft skills for cloud computing, because the cloud requires people with different responsibilities and skillsets to work together to ensure that things are run as smoothly and efficiently as possible. This is especially true of organizations that employ methodologies like DevOps, in which it is essential that developers, IT operations staff, and project managers can effectively communicate and collaborate with one another toward a shared goal.


8. Data Management
Given the enormous amount of data that most businesses generate and store, many organizations have moved much of their data to the cloud. According to the Flexera report, organizations store 48% of their data in the public cloud. But keeping track of what data they have and where it is used can be incredibly difficult for organizations with a complex hybrid or multi-cloud infrastructure. Those with the responsibility for cloud data management attempt to mitigate these difficulties by simplifying operations and making it easier to extract data. This skill is valuable to organizations because effective data management can contribute to lower costs, improved security, and improved efficiency for the rest of the organization.


9. Cloud Migration
As mentioned in the previous slide, organizations already store 48% of their data on the public cloud, and they require skilled professionals to manage this data. However, according to the Flexera report they are also expecting to increase this cloud data by around 7% in the next 12 months. And according to the Forrester survey, they are also looking to move more workloads into the public cloud. Moving data and applications into the cloud requires cloud migration skills. If a team is just doing a small migration project, they might be able to hire a third-party firm to manage the migration for them. But teams that expect to complete migrations on an ongoing basis will need someone on the team with these skills.


10. AWS and Microsoft Azure
Amazon Web Services (AWS) and Microsoft Azure continue to dominate the public cloud market. The InformationWeek survey found that 74% of respondents use AWS, and 64% use Azure. In other words, it's almost certain that any given organization will use at least one of these platforms, and it's highly likely that an organization will use both. Because each public cloud platform is slightly different, your team needs someone experienced with the details of the services you use. Both AWS and Azure offer a variety of certifications that professionals can get to demonstrate their proficiency, and cloud managers often use these certs as a way to make sure their team has the platform-specific skills they need.

Originally Published On: https://www.informationweek.com/cloud/10-must-have-enterprise-cloud-skills
Comments:(0)